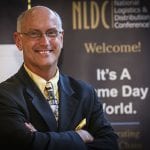 NextGen supply chains will create and use massive amounts of Big Data to connect companies with every stage of their supply chain process. Suddenly, we've become more attractive to hackers. That slack-jawed, drooling basement dweller that resembles a naked mole rat is definitely not our type. It's not enough to ignore it. We are entering an era where cybersecurity is critical to every business and all forms of data. Increased security measures will be the only way to gain the trust of customers and vendors in a digital, global economy.
In 2017, there were 1,579 data breaches and 55 percent of them were in the business sector.
Artificial intelligence, robotics, cloud storage, in-house applications, and mobile devices all have weak points wherever they intersect. New security procedures, training, software updates, and monitoring will be necessary to protect valuable public and private data.
The National Counterintelligence and Security Center warns that hackers will target supply chains for the purpose of cyber espionage, business disruption, or economic impact. They can infiltrate your network system to steal all kinds of useful data:
employees' personal information
corporate financial data
intellectual property material
operational or contractual information
shipping times and delivery locations of products
Once cybercriminals are inside the network, they can reach remotely accessed mobile devices, find holes in cloud-based infrastructures, and imitate authorized credentials and passwords. To avoid this, you will need multiple security layers between the user and the data on the web, network, application, and database that require authentication of identity and permission to access. Please don't hire Inspector Clouseau to do the job of James Bond.
Let's not forget, information will also be transmitted by the Internet of Things (IoT) sensors on pallets, containers, conveyor belts and driverless vehicles. These new automated devices are constantly sending information requiring various security certificates.
Stupid Mistakes
Unfortunately, deliberate data breaches aren't the only threat to your data. Employee and distributor error can also leave data open to attack. Lost or stolen equipment, the unintentional opening of a viral email, or an unprotected vendor connection are all opportunities for an attack that can lead to:
business interruption
employee downtime
costly data reconstruction
a damaged reputation in the industry and among consumers
Your IT department or service provider should continually monitor your network system to identify all access points to data using security system software in a virtual protected network (VPN) containing your equipment, servers, and third-party apps.
Other security tools are used to detect any changes to normal network activity or inappropriate access. They can identify dangerous proxy servers or links and block their access. When a potential data breach is found, it's reported right away. A hacked VPN or VLAN can be isolated from the rest of the network and an incident response plan can begin.
What is an Incident Response Plan?
This plan creates written guidelines about the types of security breaches and how to respond to them. It establishes a communication channel for reporting the incident to internal staff and outside authorities. It trains and prepares employees how to secure the computers, servers, and network systems right away. Incident Response Plans are regularly updated and developed according to the threat level in your business and industry.
High-risk industries include:
Communications
Energy
Financial
Healthcare and Medical
Information Technology
Manufacturing
Security procedures should be part of your employee onboarding and vendor contracts to create a new data-security culture. Protect your private areas from the roaming eyes of cyber saboteurs.
Sources:
Burnson, P., 2018. Supply Chain Management Review, Capgemini Report Suggests Blockchain is Real For Many Leading Supply Chain Managers, http://www.scmr.com/article/capgemini_report_suggests_blockchain_is_real_for_many_leading_supply_chain
Jackson, S., 2017. Data Breach Year-End Review. Identity Theft Resource Center® and CyberScout®. www.idtheftcenter.org/2017-data-breaches/
Calvo, S., 2018. 7 Threats to Your Data Security, Current Features, Technology, https://www.mhisolutionsmag.com/index.php/2018/09/13/7-threats-to-your-data-security/
Photo Credit: James Sutton on Pexels.com