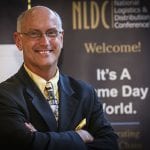 Since the future requires more skilled workers to support supply chain's diverse and automated programs, national and regional organizations, as well as post-secondary educational institutions, are now focused on introducing students to careers in the science, technology, engineering and math (STEM) fields. Today's middle school students are learning about future jobs and the skills needed to pursue them. We just need those students to reach adulthood, and then we're good to go!
What does an eighth-grader know about material handling? Apparently, about as much as most college students. That's why in 10 years today's youth will be our best resource―if they see the path toward supply chain management and industrial engineering careers waiting for them.
Is your company ready to partner with STEM school programs and community events?
In South Carolina, a communications company called Comporium created the STEM Development Foundation to increase interest in STEM careers and generate the talent needed for economic development. The foundation works closely with businesses and all levels of education to explain the availability of jobs and career pathways in new and expanding industries. It identified the need to start early―with middle schoolers―giving students time to adapt to STEM career pathways before high school. Annual events gather nearly 5,000 students from six local school districts and representatives from more than 50 different regional employers, many who are in supply chain, transportation, material handling and logistics-related fields. Sounds like an incubator to me.
Does your community have a similar program? It should.
A single generation has seen technological transformation create complex and diverse career opportunities in many regions. However, jobs offered by emerging and innovative companies are not easily understood by parents or teachers from prior work cultures, and they don't know how to guide students toward the right education, training and technical skills needed to take full advantage.
Many companies have reduced labor and human resource departments. Regional outreach programs for schools and communities are a thing of the past, and liability issues prevent student tours at facilities. The solution to this dilemma is simply being available to the educational system―an old idea that's worth recycling. Why we would reinvent the wheel every couple of decades is anybody's guess.
Through organized annual events, students can hear first-hand from your recruiters about how critical they are to the future operations of robotics and automation. They'll learn that you need their STEM skills in computer programming and engineering, as well as marketing and accounting.
In a previous article, we discussed finding employees with purple people attributes. You can actually mold talent by:
 Collaborating with educators and other organizations now
Donating automated equipment to college labs, or sponsoring work apprenticeships
Collaborating with other employers to create customized training programs and valuable insights into supply chain labor shortages (you don't have to give away trade secrets; just play nice)
Serving on local school advisory committees and offering academic feedback on courses that can maximize the skills they need to be prime candidates for careers in supply chain
Leveraging those collaborations to connect the STEM path from middle school through college or technical training
Sure, it's an ongoing commitment, but STEM education creates critical thinkers who are adept at science and math, tested through hands-on experience and able to become the next generation of innovative employees.
It's up to you to make sure tomorrow's talent starts on the path today by making a long-term investment in the school system and surrounding community. Cultivate your new labor crop by feeding it resources and information, and develop the exact talent you need for your business. If you do it right, interested teenagers will even think it was their brilliant idea.
Where to start
Ask the STEM Development Foundation in Charlotte, NC to help coordinate an event with various economic development agencies and local businesses in your area. Please contact Ed Duffy at eduffysc@gmail.com or call at 803-417-9030.
Also, for more information and ideas about ways to connect to STEM-related events in your region, contact Angela Jenkins, Sr. Production Manager at Bonded Pac, LLC at a.jenkins@bondedlogistics.com or 704-716-3572, Ext 2214.
Sources:
Hopkins, D., MHI Career and Technical Education (CTE) Sr Coordinator, Regional Stem Awareness Programs, in section: CTE update, Introduce Middle School Students to Careers in Supply Chain, https://www.mhisolutions-digital.com/mhiq/volume_6__issue_3/MobilePagedArticle.action?articleId=1402723&app=false#articleId1402723
Engineering for Kids, 2016. https://www.engineeringforkids.com/about/news/2016/february/why-is-stem-education-so-important-/
The 2018 MHI Annual Industry Report Overcoming Barriers to NextGen Supply Chain Innovation.