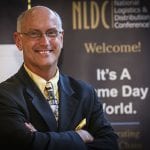 If you thought supply chain and logistics generated crazy amounts of information before, the NextGen supply chains will literally blow your mind. Remember the stigma attached to Aunt Mary when she couldn't throw away a single magazine subscription she'd received since 1960? If your intelligence is artificial, this behavior is completely acceptable.
The physical aspects and digital features of the supply chain will begin to share giant pools of information across parties in real time. Data will be constantly collected and assessed, allowing every point of the process – from retailers and manufacturers to warehousing and production – to stay connected and make changes instantly. Patiently waiting will become obsolete.
Supply chains will learn, self-correct, and prevent errors.
What is Big Data? It's a massive cloud of information collected, processed, and applied at high speed. It determines the most cost-effective demand and innovative processes so humans make better business decisions regarding automation and operations. It's the notion behind the all-powerful Wizard of Oz.
Big Data is applied to predictive analytics to improve:
forecasting
demand planning
sourcing
replenishment
production
transportation and logistics
distribution processes
Big Data only recently entered the supply chain management spotlight after learning how to deliver meaningful insights at certain points of the industry process, such as knowing when:
an item is picked off a shelf
a customer leaves a website
an online review is written
a damaged product is returned
The rapid advance of the internet led to the Cloud and then the Internet of Things (IoT). Combining it with artificial intelligence (AI) and robotics streamlines and automates our world into a fast-paced, efficient environment around the clock. Digital information will be passed on virtually error-free to supply chain employees through cognitive tools and wearables.[i]
Big Data is here to stay. Supply chain managers should embrace its obsessive-compulsive nature to hoard data. According to Glassdoor,
"…the most sought-after jobs of the future have something to do with data science, ranking Supply Chain Management as the 18th best job to have in the U.S.[ii]"
If you are a leader in supply chain, using AI will influence better customer expectations and new levels of productivity. Managers need to be testing these emerging solutions[iii] because companies still using dated technology and manual methods will not keep up with more progressive competitors.
As we digitize our super supply chain, we will attract cyber criminals and create a simultaneous need to protect our proprietary data. Old computers, servers, network systems, software applications, and security are either replaced or updated, requiring new connections and patches. Every contact point is a potential data breach if it's not done properly. Whatever the size of your supply chain, cybersecurity processes must be put in place along the way to find, monitor, and remove risks on an ongoing basis.
[i] Deloitte and MHI Industry Report, 2018. Overcoming Barrier to NexGen Supply Chain Innovation Pgs. 19, 17, 12, 10, 9, 8
[ii] Lopez, E., 2017. Supply Chain Dive, What is Big Data and Why does it Matter in Supply Chain? https://www.supplychaindive.com/news/what-Big-Data-supply-chain-application-primer/435865/